Karen Eliot is a name that refers to an individual human being who can be anyone. The name is fixed, the people using it aren't. The purpose of many different people using the same name is to create a situation for which no one in particular is responsible and to practically examine western philosophical notions of identity, individuality, originality, value and truth.
Anyone can become Karen Eliot simply by adopting the name, but they are only Karen Eliot for the period in which they adopt the name. Karen Eliot was materialised, rather than born, as an open context in the summer of 1985. When one becomes Karen Eliot one's previous existence consists of the acts other people have undertaken using the name. When one becomes Karen Eliot one has non family, no parents, no birth. Karen Eliot was not born, s/he was materialised from social forces, constructed as a means of entering the shifting terrain that circumscribes the 'individual' and society.
>>>CV<<<
Education:
2015 – 2019 Ph.D. New Media Art, Bauhaus University, Weimar (canceled)
2006 – 2011 Diploma Media Art, Academy for Media Art, Cologne
Exhibitions:
2023 "Mindfulness", Flow Offspace, Bonn
"Netart Died, But Is Doing Well"", The Wrong Biennale, Online
2022 "Clash", Festival for Contemporary Art, Barcelona, ESP
"The Wrong", International Biennale for Digital Art, Decentralized
2021 "Hetz", Kunstverein Roter Keil, Graz, AT
"Agent Provocateur", The Empty Circle, NYC, USA
2020 "Currents Virtual", Virtual Festival, Online
2019 "Digital Overload", Weltkunstzimmer, Düsseldorf
2018 "Original Copy", Die Angewandte, Wien, AT
2017 "The Wrong", Digital Art Biennale, Wroclaw, PL
2016 "ADAF", Digital Art Festival, Athen, GRC
"Facebooks", Arebyte Gallery, London, GB
2015 "Piksel15", Media Art Festival, Bergen, NOR
"SurveyWithoutSurveillance", Nave Gallery, Boston, USA
2014 "Denkwerk-Bildwerk-Kunstwerk", Denkerei, Berlin
"Pixxelpoint" Festival, Gorica, SVN
"local.#non.access", Transmediale, Berlin
2013 "Next Level", Dortmunder U, Dortmund
"Social Media Art Award", Kunstverein Wolfsburg
"local.#non.access", KM temporaer, Berlin
2012 "Densification", Art Cologne, Köln
"reflecting on networks", KM temporaer, Berlin
"Chargesheimer Preis", BBK, Köln
2011 "Visionquest" Live Streaming, Köln/Shanghai, CHN
"Lange Nacht der Museen", KHM, Köln
2010 "Studienstiftung des Deutschen Volkes", Offenbach
"Sigint 10 – Chaos Computer Club Conference", Köln
"Heavy Matter", ISEA 2010, Dortmund
2009 "Visions In The Nunnery", Bow Arts Trust, London, GB
"CfPP: Vogelsang Intervention", Vogelsang, Eifel
2008 "://selfportrait", Sao Paolo Biennale, Sao Paolo, BRA
2007 "Loop Pool", 53. Int. Kurzfilmtage Oberhausen
Grants & Resicencies:
2021 Neustart Stipendium (Digitale Strategien), NRW, Germany
2019 Grant (VR/Second Life), Second Life Endowment of the Arts, USA
2018 IMAGO International Artist Residency, Bulgaria
2015 Residency (Medienkunst), Stiftung Künstlerdorf Schöppingen
2013 Grant Virtual Worlds Development, Linden Endowment of the Arts, USA
2012 Chargesheimer Stipendium für Medienkunst, Förderpreis der Stadt Köln
Publications:
2019 "The Root Of Matter", Freedom of the Presses, Brooklyn, ISBN: 978-0-692166-78-9
2015 "Studio in the Clouds", Post Studio Tales, District Berlin, ISBN: 978-3-86485-102-5
2014 "Computerspielen. Perspectives of Play", Verlag der KHM, Köln, ISBN: 978-3-942154-34-5
2013 "Becoming Karen et al", Boring formless nonsense, Bloomsbury, ISBN: 978-1-441124-08-1
2012 "Subversion", Nebulosa, Neofelis Verlag, ISBN: 978-3-943414-06-6
2012 "Densification", Verlag der KHM, Köln, ISBN: 978-3-942154-15-4
However
Rating artists based on their prizes and exhibition venues is pretty pointless. There are great artists out there who simply don't have the ressources, health or freedom to apply for one grants after another.
The only artistic reaction to a world where everybody wants to be recognized 24/7 is radical anonymity.
The Anonymous Artist Strategy Explained:
Issue No.1: Cultural Hegemony
Why do mass media reproduce their contents, rather than produce "something new"?
– cognitive psychology: controlled and automatic information processing
—> automatic = well known patterns, easy to receive, the process of learning (makes life easier)
—> controlled = new information, emotional pressure, because thinking = effort
human brain rather focuses on the well known, than on new, strange messages
But also boredom evokes bad emotions, so little "news" integrated in well-known patterns are accepted, too.
Media consumers look for amusement to distract themselves from the mechanised work process in factories and offices.
This is why mass media rarely transmit critical information, media companies produce contents that are easily received and processed.
–> automation of work time and leisure
But:
John Fiske (Cultural Studies): there is a subversive potential in pop culture
"We buy all the same mass products in the super market, but cook our unique meals"
This supermarket is our open space, the source for art.
And then, in the 70s, Enzensbergers idea of a networked mass medium, in which every receiver is a sender: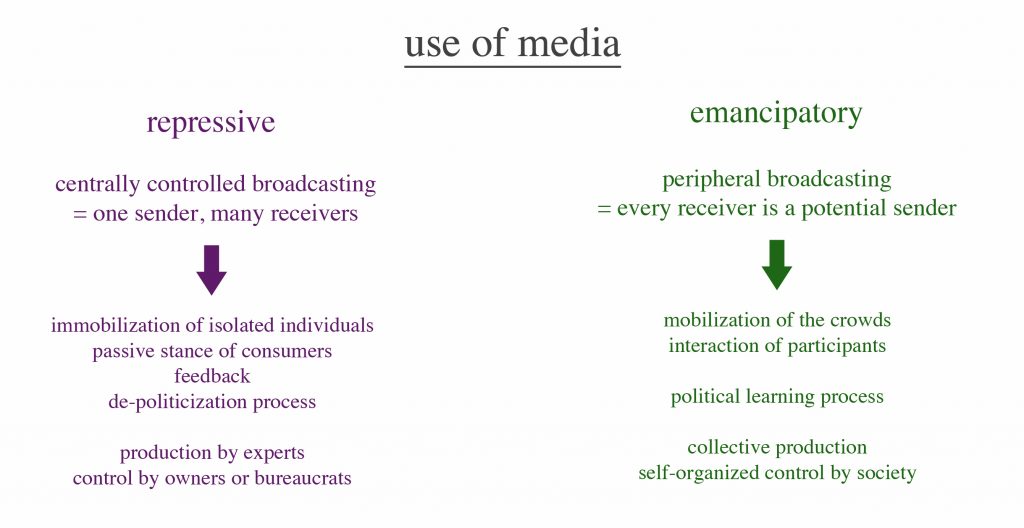 This is the internet, with all of us as senders and receivers, is the first democratic mass medium in history.
"Whoever controls the media, controls the mind."
(Jim Morrison)
We wake up, make coffee and the first thing we do in the morning is checking emails…definitely a powerful thing.
What if we all were the ones controlling it?
– network/rhizome rather than hierarchical structures of information (also known as "tree of knowledge")
– we select and look for information ourselves
– we are used to be active, not passive (in oppostion to watching TV…)
– we don't just participate, we can even change / create the environment (such as online platforms and private websites, blogs…)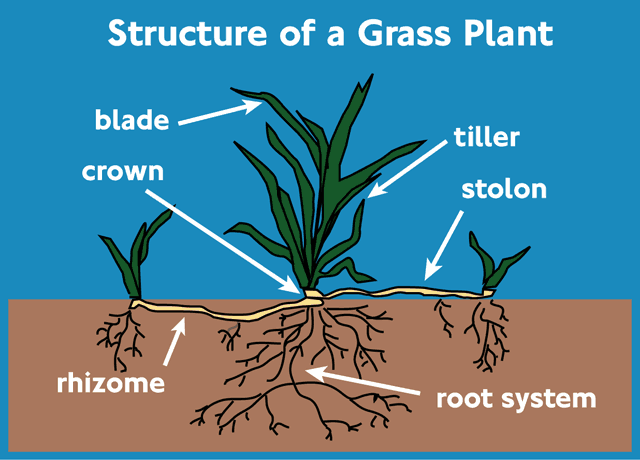 – the wisdom of the crowds ("ask the audience joker" in who wants to be a millonaire)

– Shareconomy and DIY (online tutorials, etc.) vs. Dependency on Market Economy
(matches the lifestyle of an artist very well, btw…)
– the "Social Sculpture" (might be interesting for artists, too)
Issue No.2: Individualism
A main tool in the capitalist society ( you could call it the "American-Idol-Syndrome"…)
– to make people in their automated everyday life feel like "somebody special"
– to avoid groups (unions – and therefore protest) (Henry Ford)
– to provoke competitive thinking
– for mutual (!) surveillance and discipline (= Foucault's Panopticon without guards)
—> The Internet as a tool for seperation of people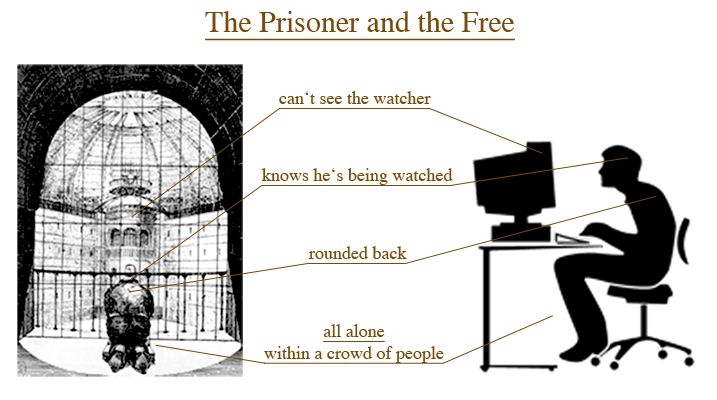 + Collecting Data and economic Surveillance
This is also the Internet.
Meta thinks I'm Karen Eliot…
– Anonymity/ Pseudonymity – Deliberative Discourse (Habermas)

—> social status/ hierarchies are less important than what people say
—> due to anonym conversations, prejudices are almost impossible
(nobody knows if he is talking to a man or a woman, to a white or a black guy, rich or poor,…)
+ You are free to say and do almost anything you like, instead of being tied to self-marketing.
If you don't want to sell yourself, you can give up your well maintained CV.
Then it's hard to be tracked, controlled, or even handled by institutions or companies.
So there was this point in my life, when I understood, I'll probably never become a famous artist,
and exactly this might be a lot of fun.